Overview
Nuclei provides Webex customers with the ability to automatically export and archive all communications occurring within Webex, including:
Webex Direct Messages
Webex Group Messages
Webex File Attachments
Webex GIFs / Images
As a first step, the "Nuclei Capture" for Webex Messaging app must be deployed from the Webex App Hub. Afterwards, Nuclei will automatically export Webex messaging content into your existing compliance archive.
Prerequisites
Webex Administrator with the "Compliance Officer" role assigned

Webex App Hub
Webex Suite licensing
Scope
Webex
Chat messages sent from all Webex users are supported for archiving. The following types of metadata are supported for each message:
Message Date / Time
Message ID
Message Text
Room ID
Room Type (Direct, Group)
The following additional types of metadata are also supported for each message participant:
Person Display Name
Person Email
Person ID
Person Organization ID
Webex message archiving will take place for all users within the Webex organization.
Supported Archives
The following archiving destinations are supported for Webex Messaging archiving:
Dell EMC SourceOne
Global Relay Archive
Microsoft Purview
Mimecast Cloud Archive
Proofpoint Enterprise Archive
Smarsh Digital Safe
Smarsh Enterprise Archive
Smarsh Professional Archive
Veritas Enterprise Vault
ZL Unified Archive
Quick Start
Installation
Install the Nuclei Capture app for Webex Messaging by selecting the badge below:
Please ensure that the Webex Administrator authorizing the archiving app has the "Compliance Officer" role assigned. "Full Administrator" is not sufficient!

Upon completing installation you will see the following message displayed: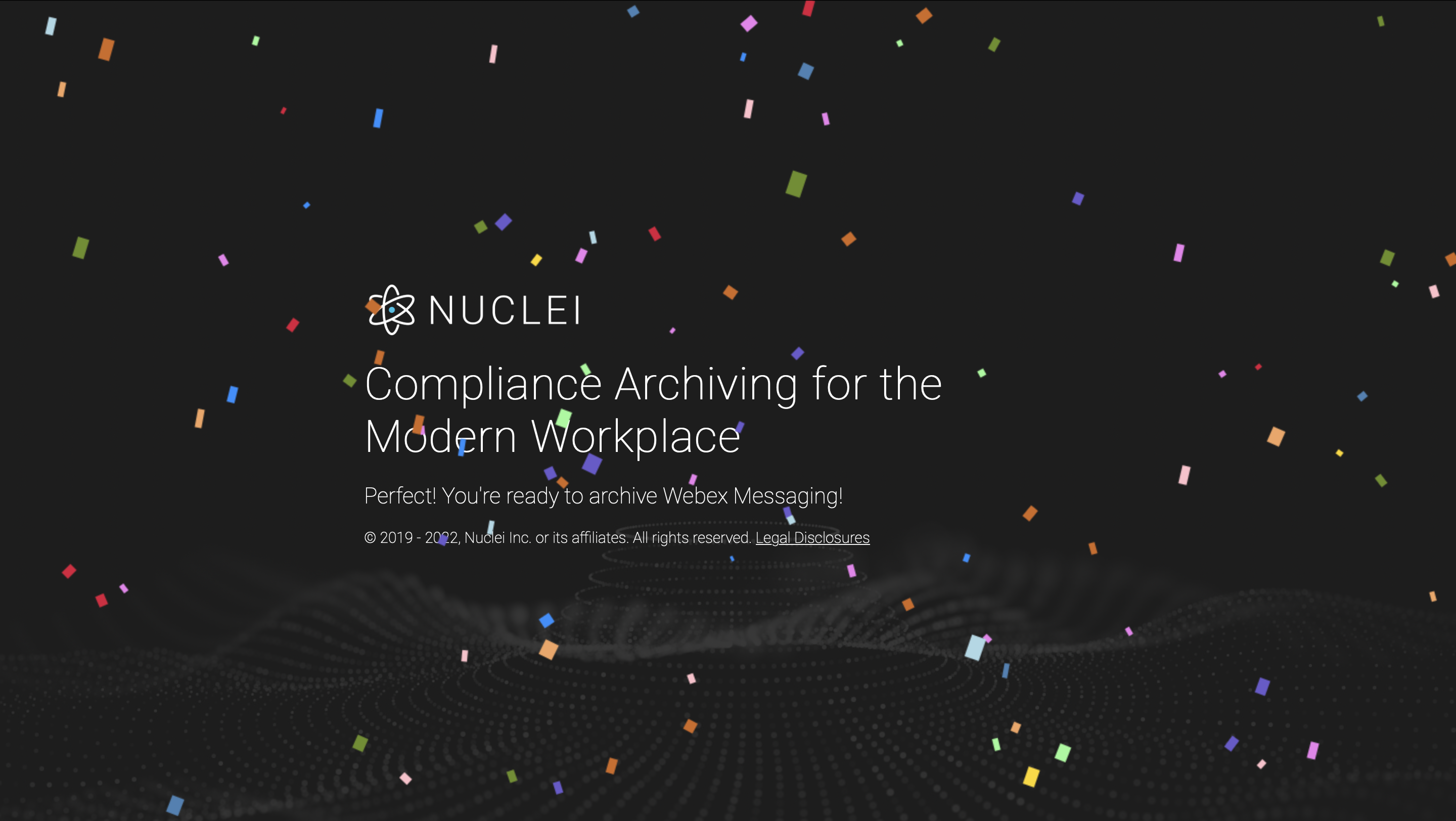 Usage
Utilization varies, and will depend on the downstream archive being used.
Example (Smarsh Professional Archive)
Login to https://app.smarsh.com
Select Search > New Search
Select Content, and replace "All Content" with "Webex"
Select "Search"
Select and review a Webex Message from the search results.
Uninstallation
You can remove application permissions directly by browsing to Webex App Hub > My Integrations.
Browse to "Nuclei Capture", and then select "Disconnect".
Alternatively, you can also create a new deprovisioning request with Nuclei.
Additional Resources
Compliance Archiving for Webex Meetings
More Information
For more information on Compliance Archiving for Webex Messaging and for a demonstration of related capabilities, please contact Nuclei's sales team at hello@nuclei.ai.