Overview
Nuclei provides Vimeo customers with the ability to automatically export, enrich, and archive all customer owned content published on Vimeo, including:
Videos
Video Metadata
Video Comments
Video Comment Replies
The integration enables Nuclei customers to archive Vimeo content and all related metadata. Once provisioned, Vimeo content is retrieved automatically and made available available for archival and further processing in other 3rd party applications.
Prerequisites
Vimeo Standard, Advanced, or Enterprise
Vimeo API
Scope
Videos
The following types of Vimeo videos are supported for compliance archiving:
Videos that the user has uploaded
Videos that the user has appeared in
The following metadata is supported for each Video:
Badge
Categories
Content Rating
Content Rating Class
Created Time
Description
Duration
Link
Privacy Setting
Release Time
Type
User Email
User Name
Video Comments
The following types of metadata are supported for each video comment:
Created On
Link
Replies
Text
Type
User Email
User Name
Supported Archives
The following archiving destinations are supported for Vimeo archiving:
Dell EMC SourceOne
Global Relay Archive
Proofpoint
Microfocus Digital Safe
Smarsh Enterprise Archive
Smarsh Professional Archive
Veritas Enterprise Vault
ZL Unified Archive
Getting Setup
Installation
To activate archival from Vimeo, you must first authorize the Nuclei archiving app: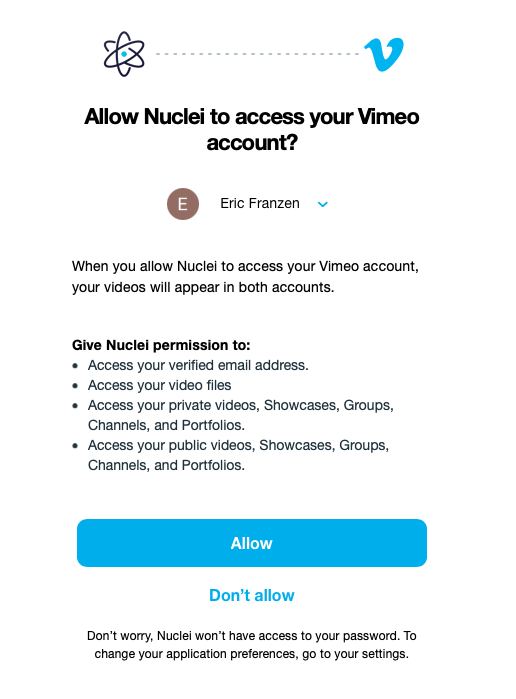 Upon completion of authorization you will see the following:
Uninstallation
To deauthorize the archiving app:
Login to https://vimeo.com
Navigate to your account settings
Select "Connected Apps"
Locate the "Nuclei" app
Hover over the "Connected" button, and then select "Disconnect"
More Information
For more information on Compliance Archiving for Vimeo and for a demonstration of related capabilities please contact Nuclei's sales team at hello@nuclei.ai.